Advancing Medical Innovation with Cutting-Edge Tracking Technology – NDI's commitment to quality, tailored solutions, and global presence make us a trusted partner for medical professionals worldwide.
Advancing Medical Innovation with Cutting-Edge Tracking Technology – NDI's commitment to quality, tailored solutions, and global presence make us a trusted partner for medical professionals worldwide.
Innovation That Drives Medical Advancements
NDI is dedicated to driving medical innovation by advancing optical and electromagnetic (EM) navigation technology in a wide range of applications. Our passionate research and development team explores new approaches to bring innovative solutions to the medical industry. We understand the critical role that our tracking solutions play in patient care, and we take responsibility for continuously improving our technology. As a leading medical industry tracking solution provider, we proudly serve various applications, from surgical navigation to radiation therapy. With our unwavering commitment to quality and innovation, we are helping medical professionals deliver better outcomes for their patients every day.
Tailored Solutions to Meet Your Unique Requirements
Developing and launching a successful product requires more than exceptional system design. That's why we take a comprehensive approach to our partnerships, with dedicated teams in account management, integration, and technical support working closely with our partners throughout the product development journey. We're committed to helping our partners succeed in their respective markets, whether surgical navigation, radiation therapy, image-guided interventions or other specialized applications. With our expert support in subsystem design, cost optimization, performance enhancements, and factory calibration, we help you get to market faster and stay ahead of the competition.
A Global Leader in Medical Tracking Solutions
NDI is a trusted partner for medical professionals worldwide, with our navigation technology found in OEM solutions in over 20,000 hospitals and medical centers globally. Our global presence with offices in Canada, the United States, Germany, and China allows us to be responsive to specific market demands and a wide range of specialized applications. We are committed to advancing tracking technology to drive medical advancements and offer customized solutions tailored to meet the unique requirements of each of our customers. With NDI, you have a partner that understands the complexities of the medical industry and can provide the expertise and support you need to succeed.
Innovating with Confidence: NDI's Commitment to Quality
At NDI, we are committed to maintaining customer satisfaction and regulatory compliance in all our markets. Our quality management system processes support our goal of demonstrating excellence in the design, development, manufacture, distribution, and servicing of safe and effective navigation solutions. Our navigation technology complies with many global regulatory and quality standards, including ISO 9001, ISO 13485, UL, CSA, and EC, as well as REACH and RoHS directives. Our products can also comply with IEC 60601-1 (3rd Edition).
Committed to Social Responsibility
NDI is dedicated to positively supporting and impacting our customers, employees, and global communities where we operate. Our priority areas include energy conservation and recycling. We proudly support initiatives such as work-from-home opportunities, secure bicycle storage, food waste collection, water bottle refilling stations, dual-stream recycling, responsible e-waste disposal, and energy-efficient lighting. Our employee-led Environmental Committee also focuses on bringing company-wide attention to addressing sustainability in our offices and at home.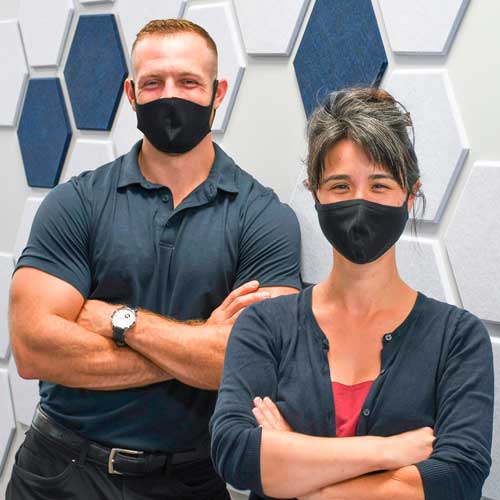 Giving Back to the Community
NDI is committed to giving back to the communities where we operate through charitable giving and corporate sponsorships. We have supported various programs and organizations throughout the year, including the Grand River Hospital Foundation, CMHA, Movember, Heart + Stroke, food banks, McMaster Children's Hospital, and Adopt-A-Family. We also sponsor exciting initiatives such as HackAthon (Hack the North), First Robotics (local high school team), and W.A.F.F.L.E.S. Robotics (robotics education for students from Kindergarten to Grade 12).
Partner with NDI to Drive Medical Advancements:
Explore Our Case Studies
NDI is a leading medical industry tracking solution provider committed to continuously improving its technology and offering expert support to its partners in various applications. Interested in learning more about how NDI has helped its partners succeed?
Explore NDI's case studies to understand our comprehensive approach to partnerships and dedication to driving medical advancements through tracking technology.